Aussie Assault
*Entry Starting From: $0.00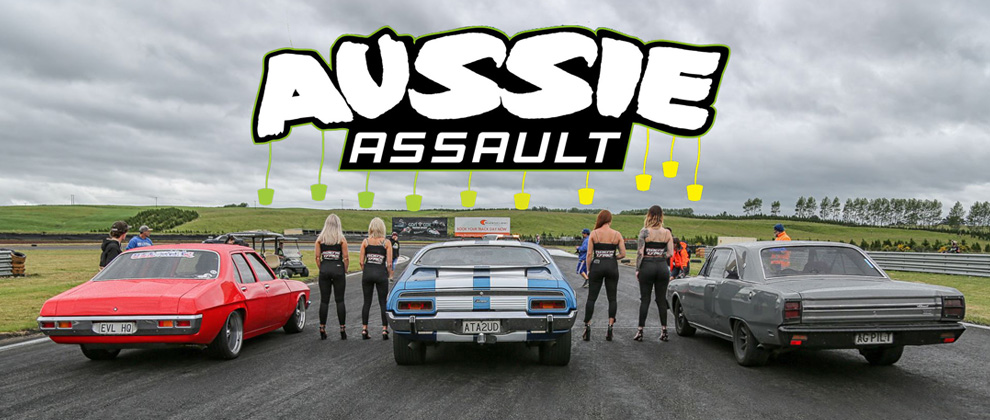 December 1st 2018 – Bruce McLaren Motorsport park in Taupo.
Bring out those Holdens, Fords and Chryslers/Valiants!
A day filled with:
Cruising – Drive your mates around an international Race Circuit in your car. This session is for Cruising only at your own pace. Any reckless driving around other vehicles is not accepted and dealt with.
Drags – Drop Flag street style drag racing, first across the line and fun/grudge racing
Burnouts – Open burnout pad, judged and non judged burnouts Just have a go!!
Drifting – For the aspiring drifter inside, the drift section of the track will be open at scheduled times of the day.
Grip Sessions – Helmets are required for this session, and passengers only if your car has a roll cage. Less cars on track compared to a cruise session, and open speed limit, go as fast as you can!
Show N Shine – Everyone entered in the main part of the day qualifies for our list of Show n Shine Award trophies.
Entries are OPEN – Your entry fee includes Vehicle and 1 Driver entry to ALL sessions as above. No Part entries sorry. No Wof? No Reg? No Cert? – No worries!! This is a racetrack – BUT, you car must pass a safety check before being able to go out on track, this includes but is not limited to Having – a secure battery, working brake lights, safety belts or harnesses up to standard, undergoing a fuel and wiring system inspection etc.
Pit Garages are available to purchase as an addition to your entry and you are given access Friday evening:
Single Pit Garage $250 (Note this does NOT include Your driver or vehicle entry)
Double Pit Garage $400 (Note this does NOT include Your driver or vehicle entry)
Spectator's – $20 Entry available only on the gate. No pre purchase tickets sorry.
Extra drivers – anyone who will be driving your car as an extra driver must attend a drivers briefing and fill out the paperwork required and there is a fee of $50 per extra driver.
Passengers – But must be over the age of 13 and sit safely in the belts/harness and vehicle. Passenger bands are available on the day and are $5, we are required by the motorsport park for you to sign in and register to be a passenger.
There is to be NO Alcohol Brought onto the venue.
Out of stock