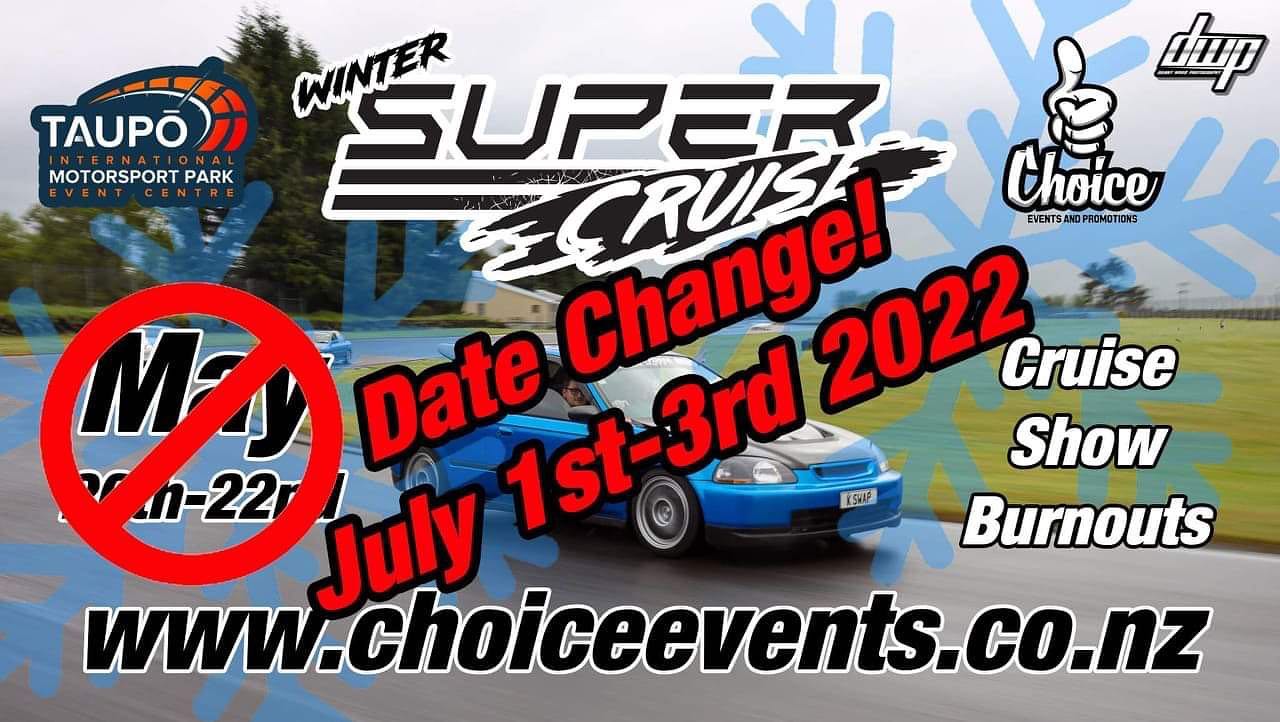 Choice Events & Promotions Winter SUPERcruise
July 1st, 2nd & 3rd – 2022
Taupo International Motorsport Park
SUPERcruise is an event for all vehicle makes and models, Starting on Friday the 1st of July, there will be a Vehicle Check & Drivers Registration Day, and an afternoon of cruising on the National Circuit configuration from 1pm-5pm. Saturday and Sunday the 2nd & 3rd will see the track open for a huge 17 Hours of Cruising from 8:30am till 5pm each day.
Cruise Sessions –Drive your mates around the 'Track 5' configuration at Taupo International Motorsport Park in your car. This session is for cruising only at your own pace and any excessive speed by drivers will be slowed. If you pass an excessive number of vehicles on any lap you will be shown the yellow flag and given a warning. Any reckless driving especially around other vehicles is not accepted and will be dealt with, and this can include removal of your driver's band and vehicle's Entry stickers – there will be NO REFUND to your entry fee if you lose your driver's band or vehicle stickers.
Burnouts – The Burnout pad will be open for exhibition burnouts throughout the weekend, Listen to the P.A System for announcements on the day.  judged and non-judged burnouts Just have a go! Including FEMALE ONLY SESSION for the first time. Snell/DOT or ECE Rated Car Helmets are required (and NOT MX Helmets) & covered footwear is compulsory, and race suits are preferred and encouraged – but long sleeves and long pants are accepted.
Show N Shine – Everyone that has entered the event qualifies for our list of Show n Shine Awards and trophies over the weekend. Prizegiving will be on Sunday afternoon for that.
NO Drifting – NO Drop Flag Drag Racing – NO Grip Sessions for this particular event, nothing but a total of 21 hours of cruising on-track activity, uninterrupted all day – each day!

Registration – Gates open at 10am and registration will be available for entrants from 10am,  Friday the 1st of July, where competitors can have their vehicle check processed and complete the driver's briefing and registration process, so they are all ready for Saturday & Sunday. Gates Close Friday at 5 pm and the last vehicle check and driver's briefing is shortly after. Gates open again at 7am on Saturday morning, and 8 am Sunday Morning. The Vehicle Check and Drivers Registration process will be open all day every day, you do not have to be at the track by any time, make your own time!
Entries are OPEN – and limited to the first 400 Entries Only. Your entry fee includes your Vehicle and 1 Driver's entry to the Cruise and Burnouts sessions as above. Burnout Only entries are the same price and charge as a full entry. Do you have No WOF? No Reg? No Cert? – No worries!! This is a racetrack, not the road! – BUT, your car must pass a safety check before being able to go out on track, this includes but is not limited to having a secure battery, working brake lights, safety belts or harnesses up to standard, undergoing a fuel and wiring system inspection, etc. A Minimum Restricted Drivers license is required to be a driver at our events.
Early Bird Price still available! Unlimited till further notice
Early Bird Entry – $240 (First 100 Entries)
Second Release Entry – $270 (Second 100 Entries)
Standard Release Entry – $300 (Final 200 Entries)
Gate Sales – $350 (If entries not sold out prior)
Pit Garages are available to purchase as an addition to your entry and you are given access from when gates open Friday at 10am until Sunday at 5pm.
Single Side Pit Garage – $650  (Note this does NOT include Your driver or vehicle entry
Double Pit Garage – $1200 (Note this does NOT include Your driver or vehicle entry)
Spectator Pricing – Purchased at the gate on the day. 
Adults Weekend Pass $50, or $30 Per Day
Kids Pass Under 12 Free
No pre-purchase tickets are available for this event sorry. We have cash or EFTPOS options.
Extra (Secondary) drivers – anyone that wants to be a driver throughout the weekend that is not an entrant, will be a secondary driver, and must attend a driver's briefing and fill out the paperwork required. There is a fee of $50 per extra driver (additional to your general admission fee). A Minimum Restricted Drivers license is required to be a driver at our events.
Passengers – All passengers that go out on track are required to sign an indemnity form before being allowed out on the track. To make sure this is done passenger bands are issued to all passengers. These can be purchased from the registration room also on the first floor in the pit building. There is a "Minimum Required Height Rule" for passengers. There is no age limit but you must be at least 148cm tall. Note: Drivers' bands double up as Passenger bands, you do not need to purchase both.
There is to be NO Alcohol Brought onto the venue.  Vehicles will be checked and any found will be confiscated upon entering the venue.
We look forward to seeing you there! When posting on social media be sure to use the official hashtag of the day #supercruisenz
For all the latest information and updates, please follow the Choice Events & promotions Facebook page.
If you have any more question please do not hesitate to contact us via the 'Contact Us' tab on our website www.choiceevents.co.nz or via a message on our Facebook page – Choice Events & Promotions'